With so many inspiring colours and themes to choose from, a winter wedding can be truly romantic and magical. They can however have their challenges! Our wedding planners share their top wedding tips to help you plan yours:
Give plenty of notice
Winter is a busy and expensive time of year because of the festive rush. Make sure you give your guests plenty of notice by sending out a Save The Date.
Keep it all in one place
If possible, hold your ceremony and reception all at the same venue. If the weather is bad, it will make travelling much easier for your guests. Book somewhere that has bedrooms too so your guests can avoid the hassle of getting a taxi back.

Embrace the weather
Planning your winter wedding means you're going to have to be prepared for all kinds of weather, but don't let it ruin your day, embrace it! Have a set of wellies and luxury umbrellas on stand-by and you'll certainly capture some fantastic shots!
Go wintery with favours
When it comes to your favours, go seasonal. Think mulled wine spices, personalised candles or a Christmas bauble. You could even hand out sparklers for an extra special send-off!
Theme your cake
Go for a winter wonderland-inspired cake with crisp white frosting, snowflakes and pine cones. Gold and silver colours work perfectly for a touch of winter elegance, and if your winter wedding is near to Christmas, why not add a touch of red and green too? Add a subtle winter cake topper to complete the look.
Get creative with food and drink
Talk to your venue about getting creative with the menu. Opt for a mulled wine drinks reception, seasonal canapés and mince pies for the dessert - delicious!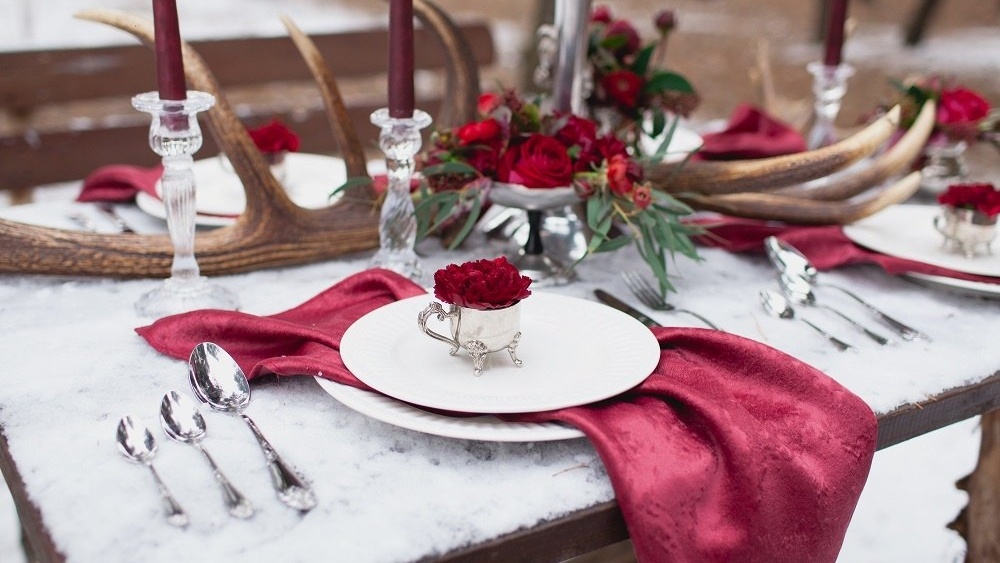 Make the most of lighting
By the time your guests sit down to eat the wedding breakfast, it is likely to be getting dark. Add a romantic ambiance and magical touch to the room by using candlelight and fairy lights.
Keep warm in style
As temperatures drop, you'll want to ensure that you and your guests stay warm, especially if you're going to be heading outdoors for your photographs. A shawl or fur coat will help keep you and your bridesmaids warm whilst still looking stylish! You can also provide a few blankets for your guests to cosy up in.