Make your table centrepieces a talking point on your wedding day with these original ideas.
Floral arrangements are the go-to when it comes to table centrepieces at weddings. But if you're not a big flower fan, have allergies to contend with or want to wow your guests with an innovative alternative, here are 10 wedding centrepiece ideas you might not have previously considered.
1. Flowers with a Twist
If you love flowers but want them displayed in an original way, add a group of mismatched vases to the middle of each table. This will give your tables an eclectic feel, and you can add other items to the vases as well as flowers, such as herbs or paper crafts.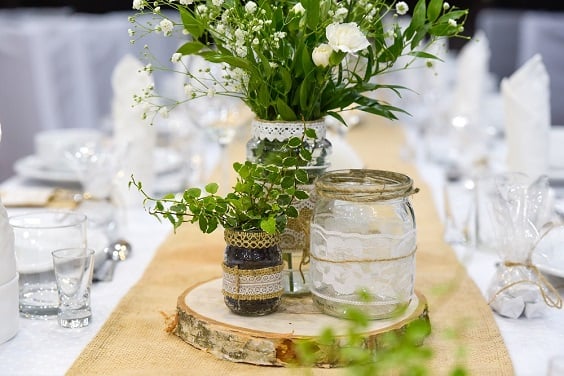 2. Photos
Make your centrepieces personalised with a series of photographs in decadent frames to form a focal point. They could be photos of you as a couple, or photos of you with the guests on each particular table to make it truly bespoke.
3. Cake
Make pudding part of your centrepiece by arranging cakes or individual desserts in the middle of each table. This could be on an afternoon tea stand, or create a cupcake tree by hanging small cakes from a sturdy plant.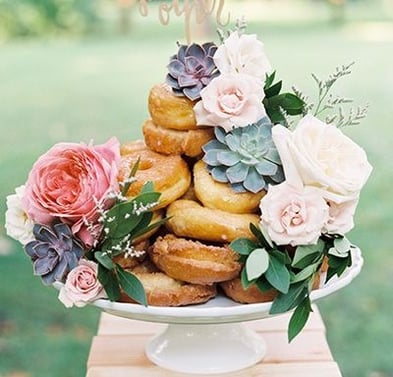 Pinterest - Bridal Guide Magazine
4. Candles
Popular for creating an intimate feeling and soft lighting, there are also a number of original ways candles can be arranged. Try floating candles in goldfish bowls or tea lights in a cluster of large wine glasses for a different look.
5. Bottle it up
Sometimes the most creative look can come from everyday items. A bottle or a collection of bottles can look truly elegant as a table centrepiece. Use bottles of different colours, shapes and sizes or paint your own designs on. You can also put candles in some and single flowers in others to create a quirky and totally bespoke arrangement.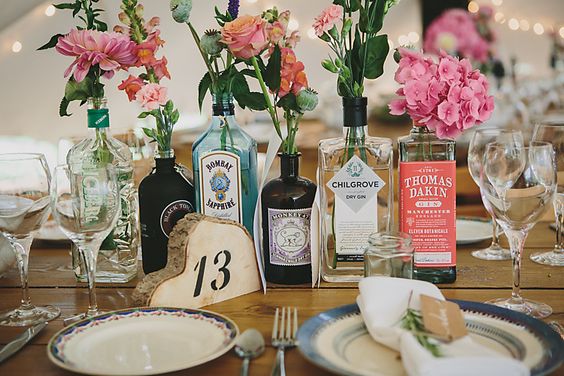 Pinterest - Whimsical Wonderland Weddings
6. Books
Add a vintage feel to your wedding day by having a stack of old books as your centrepiece. It'll add some old world charm to the tables, and you can still add some flowers or candles on top to enjoy the best of both worlds.
7. Fruit
Harness the colour of fruit and encourage your guests to have a healthy moment during your big day by making centrepieces out of fruit bowls! Choose just one type of fruit such as vibrant red apples, or mix a few fruits together, for a rustic and organic feeling on your wedding day.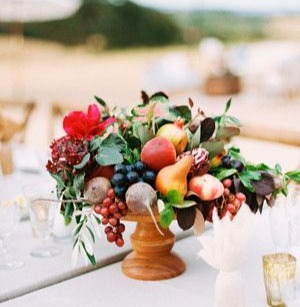 Pinterest - Martha Stewart Weddings
8. Bird Cage
Adorn bird cages with flowers and foliage for bespoke centrepieces that reflect your own creative style. You could give each one a different look or theme to add yet more originality.
9. Hanging Ornaments
If space is limited at your tables, have hanging centrepieces that are suspended from the ceiling instead to free up space. This could be in the form of hanging baubles or flower pots with single flowers in them. For a quirkier touch, you could also have retro sweets tied into hanging pieces of yarn for guests to help themselves to when they get peckish! Check out our ideas for wedding favours here.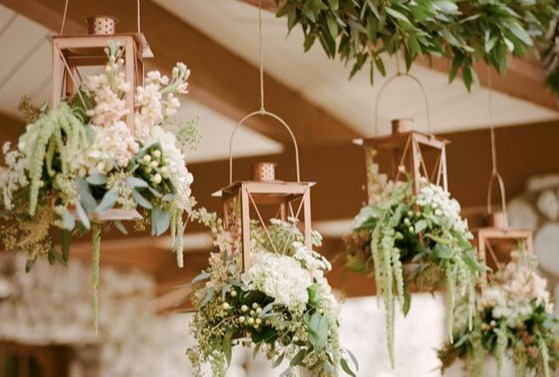 Pinterest - Wedding Sparrow
10. Lego Time
Make your centrepieces colourful, quirky and interactive with huge glass bowls filled with Lego! It's a great ice breaker for people who don't know each other on the table, while people of all ages will have a blast building weird and wonderful creations.
Add your own stamp to the table décor by having some fun with your wedding centrepieces!