Leanne and Chris held their wedding reception at Woodside in October. Leanne shares all about their special day below:
Tell us your story (how did you meet, how did he/she propose?)
We met through the online dating site Match. We were each others one and only dates! We both lived in Ealing and our first date was at 'The North Star', a true authentic British pub. It wasn't love at first sight but we definitely grew on each other! Chris proposed three a half years later on the second night in our first house. We were engaged for two years before our wedding day.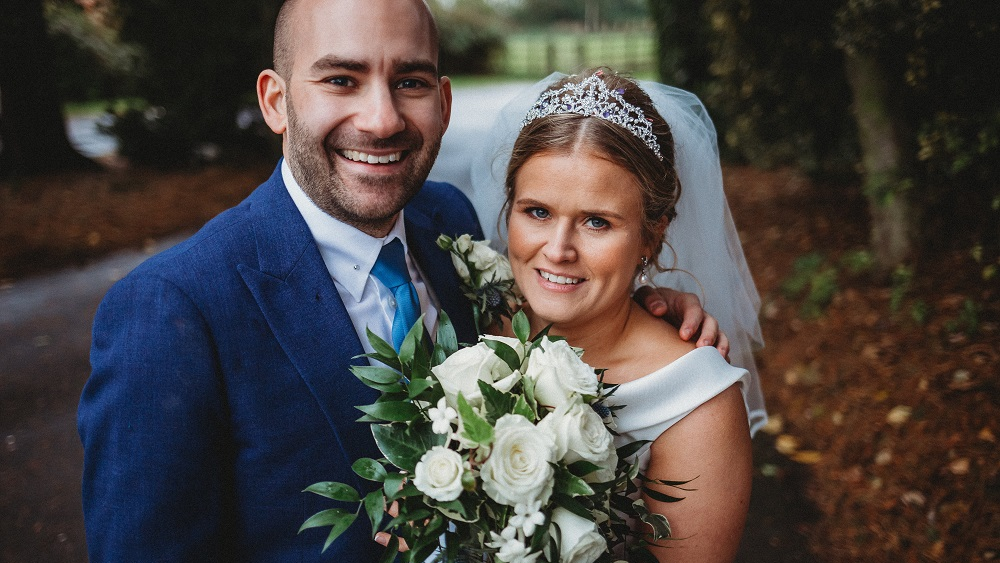 What made you choose us as your wedding venue?
As soon as we walked through the doors at Woodside, we were struck by the one team approach of the staff and also by the homely atmosphere it exuded. Add into this having the opportunity to have exclusive use along with bedrooms to accommodate our guests, we quite quickly decided that this is where we wanted our wedding reception to be.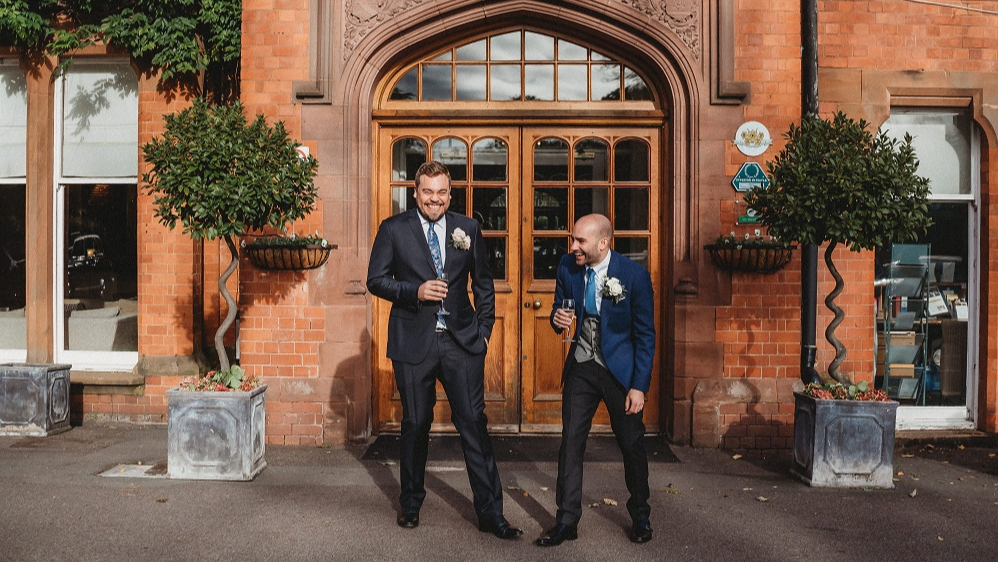 Which suppliers did you use?
We used so many different suppliers for all parts of the planning. Here are a couple that really made the day:

Our cake was created by Deborah Guest, the most easy going and relaxed lady you could meet. I remember the day that the cupcake samples arrived for us to taste, we fell even in more in love with her creations! The cake was our 'something blue'. It was five tiers made up of white chocolate and raspberry, coffee, lemon and vanilla. It tasted incredible and lucky for us we had enough to last a good few weeks after the wedding!

Our flowers were created by a family friend Sharon (Fleur Nightingale), a fountain of flower knowledge. She eased us through the process and made everything happen that we envisaged. From the teeny tiny flower crown for my niece through to the blossoming bouquets for my sister and I, along with a million and one other intricate details in the church and at Woodside, nothing was too much.

Our photographers were Ben (Ben Cotterill Photography) and Chris. A must for us with a photography was someone who could capture the day in secret. That's exactly what these guys did. They made everyone feel at ease, especially Chris who hates having a camera in his face. The photographs speak for themselves!

Our videographer was Ben Salisbury (BRS Videography). I have always loved watching back home videos and I wanted the same for our wedding day. Ben captured everything about our day, even details that we didn't have a chance to take in. Since we received our feature film, it's been on loop. It's the best thing ever being able to watch the day over and over again. Ben's ability to capture the true spirit of the day was second to none.

We had a lots of different musical genres to cover our mix of musical interests. Sarah Munro, singer songwriter sang at our church ceremony. Her music combines elements of jazz and folk; a voice you could listen to for hours. The Dave Ferris Duo provided a selection of the Great American Songbook to entertain our guests during the drink reception and helped to provide a great ambience. Lampa kept our guests on the floor for hours. They played an eclectic mix of genres in a traditional folky way. A young group of musicians with boundless talents.

The photo booth and love letters were hired through Picture Blast. We saw them at one of the Woodside wedding fairs and thought they were ideal for what we wanted. A neat, small photo pod that you could move around the venue as and when you wanted. Our guests loved it, especially as the night went on.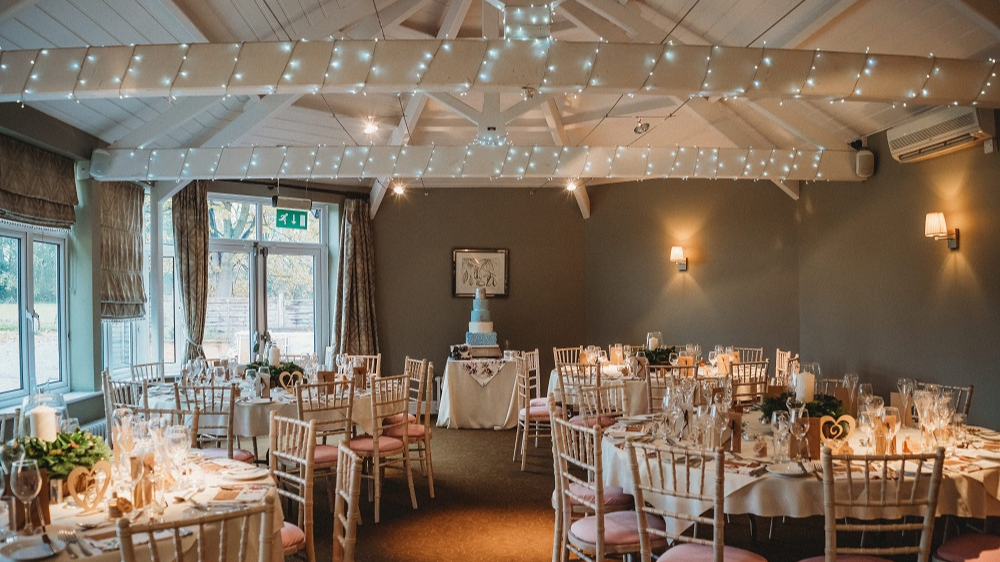 On the day, what were the best bits & what made the day memorable?
Best bits were - the 'I do's', seeing all our friends and family from all stages of our lives all together in one place, the confetti shot outside the church (in true British fashion, it was raining but all our guests embraced it and got involved), Chris driving us from the church to Woodside in our White Morris Minor, seeing my niece and nephew taking cute to a whole new level in their flower girl and page boy finest, getting nearly all 125 guests outside to do sparklers, our first dance, the party and dancing that followed onto the early hours and the breakfast the next morning where we reminisced with all our guests on the day. Basically… all of it!

What was your vision/theme and how did you make it happen?
We weren't particularly focused on a set vision or theme. We have always been a 'less is more' kind of couple so we aimed to keep things simple. We got married at the end of October which is our favourite time of year and we incorporated a few seasonal elements of this into the day (sparklers and pumpkins on the tables outside)

We picked Woodside for it's homely feel so we reflected that in the way that we decorated the venue through putting up family photographs and using a couple of sentimental family heirlooms to decorate in various rooms.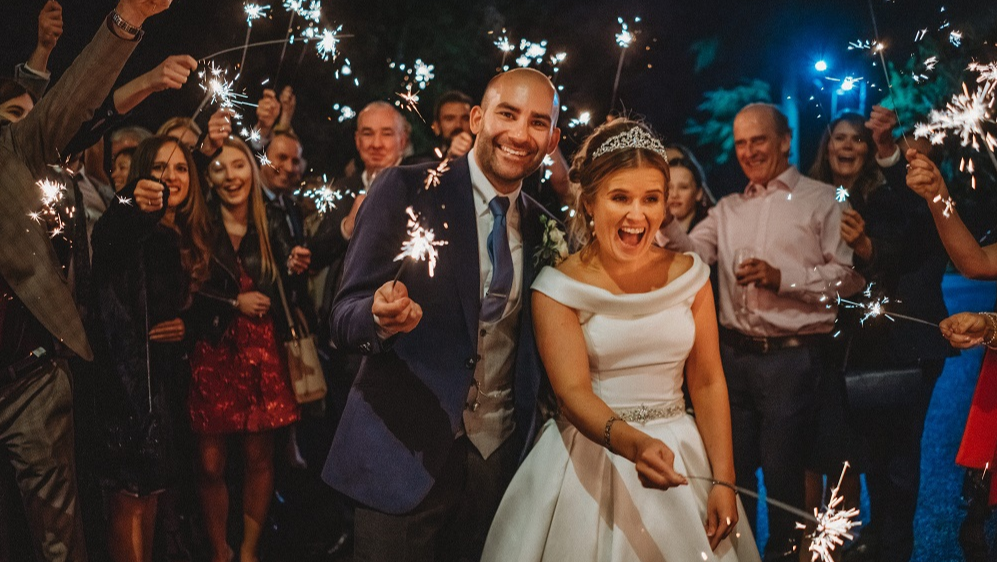 How was the food on the day?
The food was 10/10 and exactly what we were hoping for. We had a number of different menus catering for people with various dietary requirements and Woodside were accommodating from start to finish. We have had nothing but glowing feedback from all of our guests. From the canapés at the drinks reception to catering for 125 people at the wedding breakfast to the bacon baps at midnight, Woodside's food and service was 5 star.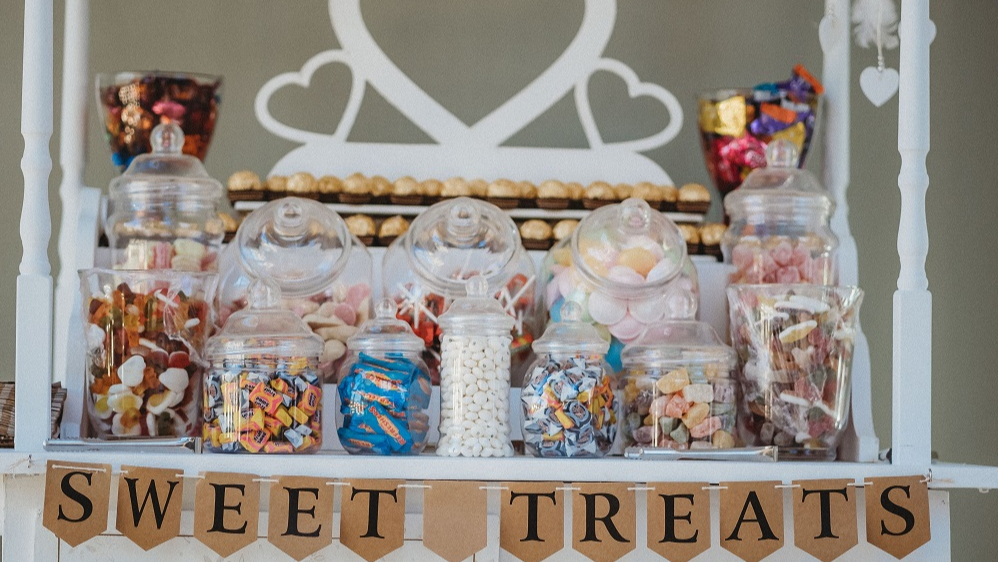 What's the best advice you can give a couple planning their wedding?
Leave loads of time and make the planning fun (we did a lot of ours from the pub!). My auntie did the table names, my school friend did the order of the day and other signs, another school friend played the violin at the church, my mum and dad made the back drop to the photo booth….the list of people that helped us was endless - and we couldn't have done it without their help. Embrace all the people that want to help and get them all involved. Without everyone's contribution to our day, it wouldn't have been what it was!
What comments would you like to add about us and the staff involved in your big day?
Our interaction with the staff from day one made us feel very welcome and they were always approachable and nothing was too much. Although we went through a couple of wedding planners in the first year, this didn't deter from the service that we received. Vicky and Jo were first class - with their knowledge of the venue and their experience of weddings, we always felt in very safe hands. They are also always smiling, which always made us feel comfortable and at ease through the process, especially as we got closer to the big day.

Video by BRS Videography
Photos by Ben Cotterill Photography