Lauren and Nick held their wedding at Woodside Hotel in Warwickshire in May 2018. Read all about their special day below:
Tell us your story (how did you meet, how did he/she propose?)
We met via an online dating site although it turns out we went to the same uni for 2 years so could have met much sooner in theory. We went to the Lake District about a year and a half into our relationship, Nick took me to a secluded spot on the Sunday morning (friars crag) and proposed. It is one of the Lake District's must famous beauty spots and just as Nick was proposing, other people started to walk to the spot we were in. They very quickly realised what Nick was doing and turned straight around. I've never seen two people turn around and walk away as quickly I'm my life!
What made you choose us as your wedding venue?
We were looking for a venue close to where Nicks grandparents lived due to travel issues. The grounds at Woodside are beautiful and the staff were brilliant from the moment that we stepped through the doors. The thing that swung it for us was the gorgeous outdoor gazebo that is licensed for weddings as it meant we could have the outdoor wedding we had both dreamed of in a lovely setting!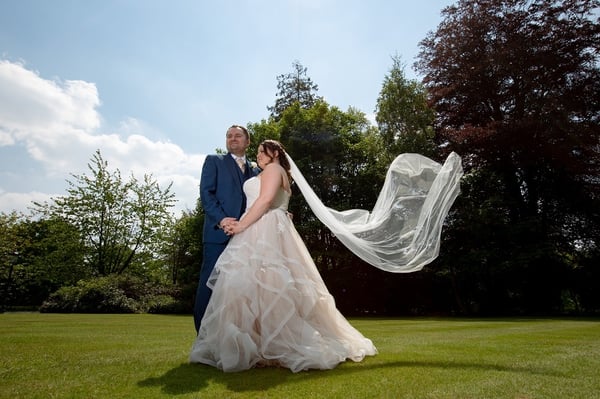 Which suppliers did you use?
Ani Evans - photographer and photo booth, Sweet and Scrumptious - Krispy Kreme cart, Rugby Cake Fairy - wedding cake, SC make up artist, Hair by Demi, Sister Sister Bouquets - flowers, Crafty Pants Creations - light up letters.
On the day, what were the best bits & what made the day memorable?
The ceremony, the krispy kremes and our guests reactions to our reveal wedding cake. The staff were absolutely brilliant and we will always remember how smoothly the day ran thanks to them. The fact we got married outside also impressed our guests as the only people allowed in the gazebo were me, Nick, the registrars and our witnesses - we honestly felt like we were the only people there. I am not sure if we would have felt the same if we had got married inside!
What was your vision/theme and how did you make it happen?
We wanted the day to represent us so we incorporated various little touches. We went for a cream and blue colour scheme (Nicks favourite colour), We had a caricature from Disney world on display (I love anything Disney), we had a semi traditional wedding cake with a batman motif (Nicks favourite super hero). I think for us it was all about the little touches that we knew were there (even if others didn't).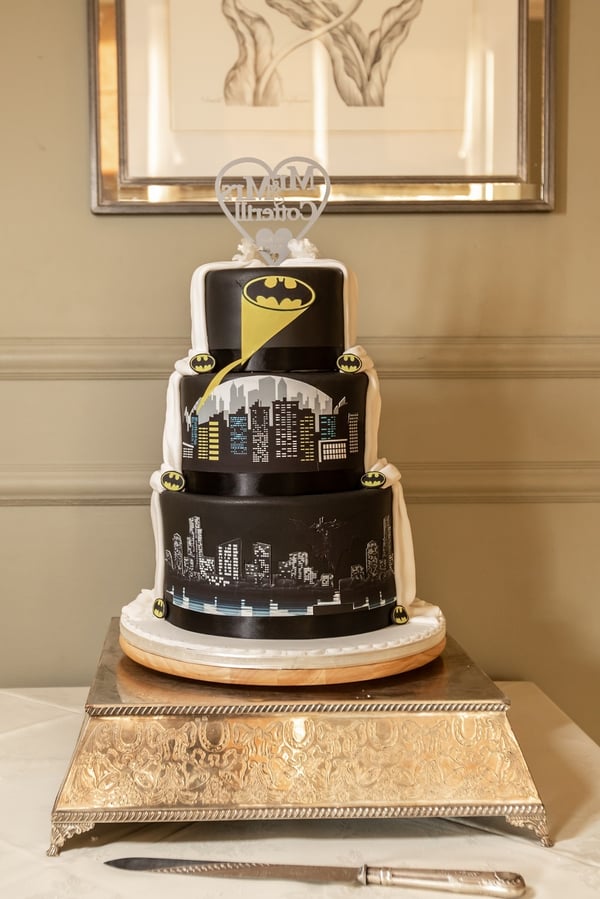 How was the food on the day?
The food was INCREDIBLE! We enjoyed the food during our menu tasting but the venue took it up a notch on the day. The portions were huge (but not too much). We didn't have a chance to try the evening buffet food before the day but you knew it was good when the queue for the food went around the corner into another room and people kept going for seconds. The best testament as to how good the food was- I have a very fussy aunt who cleared her plate and told me that the food was great... and she doesn't twist her words!
What/who helped during the planning process?
I had a wedding planner that I received as part of a bridea box that I purchased online when we started planning (I honestly recommend that to every bride- you can find them online) - it was great and have you useful tips for making sure everything was covered My mum helped a lot during the planning process, helping especially in putting our table favours together Our last meeting with Sarah was so useful - she ran through the entire day step by step to make sure the venue had everything covered! That helped us immensely as last minute nerves started to set in as we knew we were in safe hands.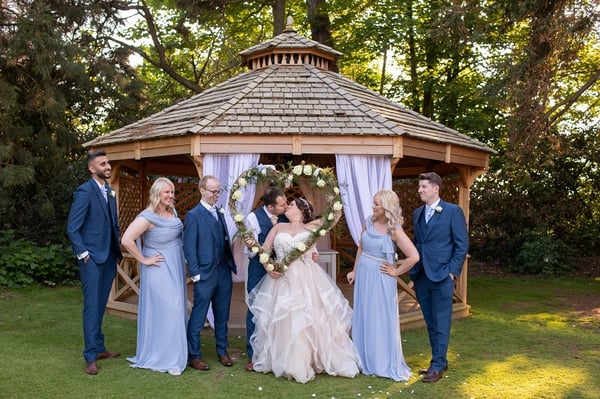 What's the best advice you can give a couple planning their wedding?
Enjoy it! Things will go wrong during the planning process but just stay calm. Your guests won't know if something on the day is different to what you had planned so don't worry! It is your day!
What (if any) comments would you like to add about us and the staff involved in your big day?
Every single member of staff was brilliant! Special thanks go to Vicky, Sarah and the head chef! You can ask anyone a question and they will deal with it - even if they don't work in that particular area of the company.
"A dream is a wish your heart makes ... and Woodside made our dreams come true."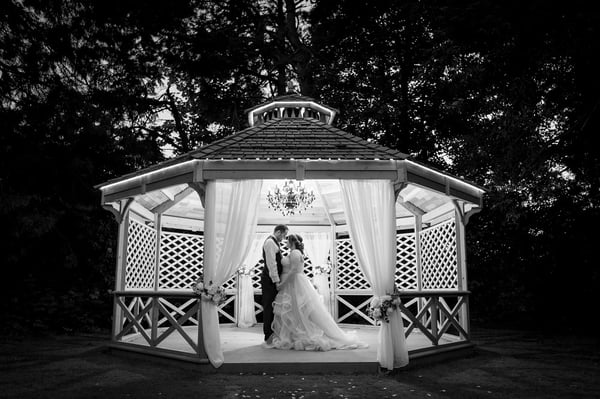 Photos by Ani Evans Photography.