With Veganuary being one of the most popular words of the year so far, more people are turning to a plant-based diet. The vegan diet, also known as plant-based diet avoids all animal-derived foods and products. Whether you went vegan for January or for life, for the health benefits or moral reasons, this lifestyle if becoming more popular every year.

Humpit Hummus has provided great tasting Hummus, Falafel and Pitas for five years. They pride themselves on having over 1 Million Hummus lovers visiting their UK stores since they began. That's enough hummus to fill an Olympic swimming pool!
Instagram
Hummus Bowl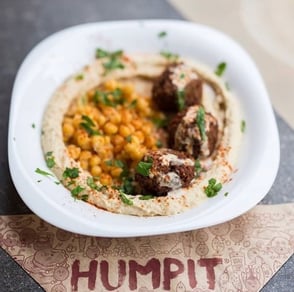 Nuovo has created a relaxed dining experience featuring Cicchetti, Italian small plates. They have a dedicated vegan menu with dishes such as Trofie Peperonata, Mushroom Crostini and Vendure Fritte.
Instagram
Chickpea & air dried Tomato Crostini with Pickled Red Onion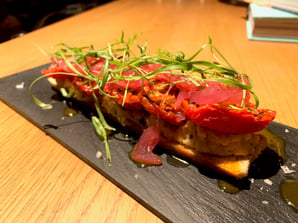 Based in the heart of Northampton, opposite the market square you'll find Zapato Lounge. Zapato, meaning 'shoe' in Spanish, takes its name from the county's world renowned shoe making industry. The best part of their vegan menu is once you buy their Bombay Sweet Potato & Lentil Curry, 50p from each dish sold will be donated the Australian fires. The total money raised will be split between The NSW RFS which is widely acknowledged as the largest volunteer fire service in the world & WIRES Wildlife Rescue which is the biggest wildlife rescue and rehabilitation charity in Australia.
Instagram

Bombay Sweet Potato & Lentil Curry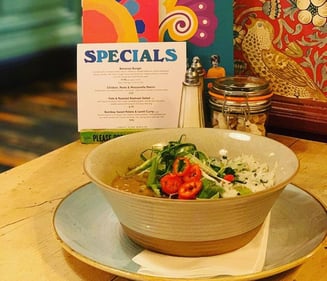 Established in the centre of Towcester, Bar Encore offers a Mediterranean inspired menu of Spanish Tapas, Greek Mezze and Venetian Cicchetti. The menu has vegan tapas options which include home made Chorizo sausage, which is a rare find.


Patatas Bravas & Chickpea and Spinach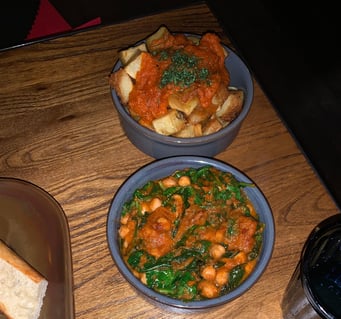 Karmana specialises in vegan and vegetarian food, in fact, they are Northampton's first plant-based cuisine and juice bar. They promise an intimate,relaxed and memorable dining experience every time.
Instagram
Maxicano Chilli Burger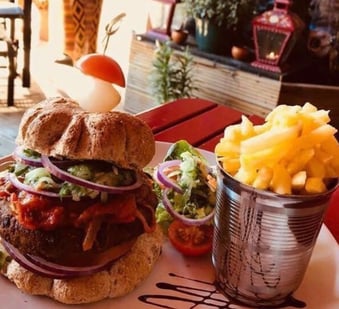 Whether you are visiting as leisure guest or conference guest, nothing is too much trouble. Here at Highgate, we offer a wide range of vegan options for you to choose from. If it's breakfast, lunch or dinner we are dedicated to creating dishes for your dietary needs. You have probably heard about our popular afternoon tea and will be happy to know that we also serve vegan afternoon tea. We would hate for you to miss out on one of our most indulgent traditions!
Instagram
Lentil Cakes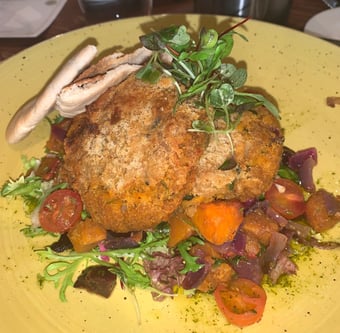 The go-to place for vegan food lovers. Vegan House Café serves the highest quality vegan food from breakfast, lunch and evening dinner. The menu also includes light bites and authentic Indian cuisine.
Instagram

The Green Loft have designed special dishes for your vegetarian or vegan lifestyle. They believe when you nourish yourself with fresh natural food, you become stronger, healthier and simply happier. They have a pure vegetarian and vegan menu full of forgotten vegetables, fruits and grain varieties. The restaurant has a charming environment full of flowers and beautiful plants.


Fox and Hounds

Situated in the village of Harlestone, Fox & Hounds recently relaunched in 2019 with a new-look. With this new look came a fantastic vegan menu. Compared to other restaurants they have an extensive vegan dessert menu along with starters and mains. Their specialty is indulgent vanilla ice cream made using coconut oil.
Instagram
Bread and Circus

If you want somewhere more out of town, Bread and Circus in Daventry is perfect. During the day Bread and Circus opens as a bakery and in the evening open and serve delicious pizzas. Their 'Cheat Feast' includes shredded chick'n, mock duck and home made sauce.
More Information


With so much choice, where will you go first?