Helen Sandman from MG Sales Performance, shares her valuable insight into the world of a trainer and how the right venue can make a real difference:
---
---
"I'm frequently using hotels and meeting venues (occasionally village halls and nightclubs – that's another story) to train groups of people. The groups are usually between ten and twenty people but, whatever the size, my 'must-haves' always remain the same. It is surprising, therefore, how seldom it is that venues really understand what makes the difference for me between an average venue experience and a truly outstanding one.
So without further ado, I'm going to invite you to step inside my world and experience things from my perspective. Remember this isn't a moaning session. This is pure (and very valuable) customer insight into the world of a trainer. Here goes…
A day in the life of a trainer
[This is a fictitious account and does not relate to any specific venue. It is based on years of experience training in venues throughout the UK and Europe.]
Left home this morning at 5.30am to get the 'dark o'clock' train to Paddington. No time for tea, just a quick slice of toast to keep me going.
Having battled the train network and circumnavigated the closed Bakerloo line with my many bags and video camera, I arrive at my venue. It's 7.45am and I'm unsure which room I'm in as there isn't anything yet on the board. The reception team tell me that the events team won't arrive until 8.00am so in the meantime a duty manager lets me into the training room. That's no problem, I'm just delighted to be in the room!
The good news is that I have the right layout today - cabaret as requested. But the room is tight. It's fine for a half day meeting where people remain seated but I specifically requested a large room with space for participants to move their chairs back and work in small groups. There is no sign of the extra chairs for the two additional attendees nor the three flipcharts. I only have two flipchart pens and when I plug into the LCD projector I can't get the audio to work. Hmm! I can feel my stress levels rising as I consider moving furniture or a possible room move. I go to phone for a venue contact to help me but there isn't a phone in the room.
Fortunately, a bright friendly events person arrives within a few minutes and the good news is that today there is another room we can re-locate to – but it has to be set up. After all the faff, it is now 8.15am and I'm just getting the video equipment set up and my training notes arranged. I'm feeling under pressure as within a few minutes an early participant arrives whilst I'm still sorting flipcharts and pens and I feel pulled between welcoming and engaging her, and continuing my frantic preparation. I'm gagging for a cup of tea and the events person finally takes the hint!
We run through the day's timings and a technician arrives to sort out the audio problems. There are now a few early participants in the room and I still don't have the right slide deck on display. I request a key for the room so that at lunch we can confidently secure valuables in the room (including my expensive equipment) whilst we eat in the venue restaurant. It causes quite a stir as I'm told that they don't usually give out room keys but I'm promised a key will be available quickly. Not the start I had hoped for.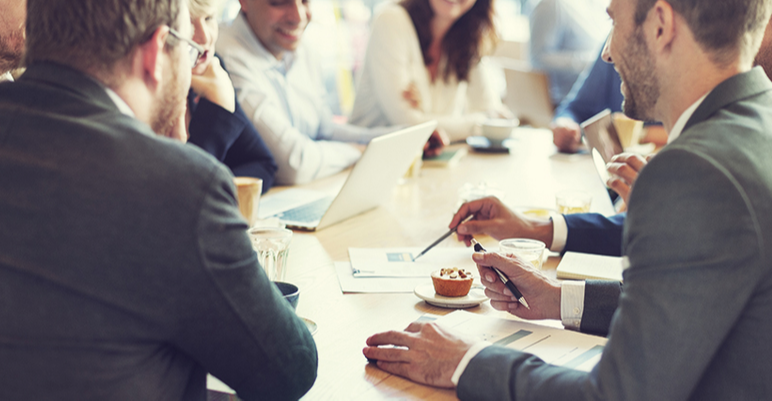 At 10.45am we're in the middle of a group conversation. It's fairly in-depth and crucial to the ongoing success of the day. Suddenly the door opens and in comes the events staff bringing tea and coffee flasks and the delicious smell of just baked chocolate cookies. The distraction is too much and of course everybody turns to look. Keeping track of what I'm saying whilst cups are replenished and debris is cleared, is nigh on impossible and, if I'm honest, there's not much point in trying to compete with the smell of wafting chocolate. So I've lost the group. Their minds are elsewhere whilst they contemplate a soon to be announced coffee break. I'm feeling frustrated and wishing I'd insisted on breaks outside of the main room, or at least an agreement that the refreshments cannot be brought into the room until the exact time agreed.
Before we know it, we're breaking for lunch and the good news is that we get to leave for a new environment. The room is locked by the events staff (still no key). Lunch however, is a selection of brown items. All well cooked and presented but chiefly fried with very little fresh fruit or salad. I'm already contemplating the afternoon session as I consider that the high carbohydrate lunch is going to have a real negative impact on everyone's alertness and capacity to learn and remember. Why don't venues understand the impact food has on participants and serve 'brain food'?
I return to the room so that I have some time to prepare for the afternoon session but there is nobody around to open the door for me. By the time the room is unlocked my participants are returning too so yet another frustrating situation to handle – if only they gave me a key as requested.
After lunch the simulation exercises begin and I video the participants as they put into practise the learning from the morning session. All is going well until l banging can be heard from the meeting room next door and the noise unsettles the participants. We carry on regardless but when the video is played back the sound is audible and muffles a key part of the film. Very annoying and I'm distracted whilst I try to resolve the noise problem from next door.
I could go on but I think that more than gives you a flavour of the venue 'must-haves' from a trainer perspective. I believe that lots of venues know this stuff but there are very few that actually consistently do it. Moreover, it's the depth of knowledge and understanding as to why these things are important and how it impacts on the trainer and the participants if things go wrong."